Carrig Brewing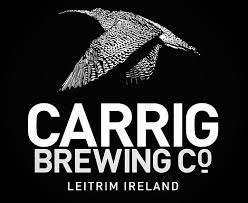 Carrig Brewing Co. located in the heart of Leitrim is the first brewery to open in Leitrim in the past century. Carrig's own craft beer range has grown significantly since it's opening in 2011 and currently produce a range of 15 beers in draught and bottle format with seasonals and specials. The business has grown from strength to strength since 2011 and is now listed nationally in over 300 outlets including 2 national multiples and is exported to Northern Ireland, France and the USA .
Encapsulated in this brewery tour is an insight into not only Carrig Brewing Co. itself, but the dynamics of a microbrewery and the craft beer brewing process. You will be enlightened by the skill and precision that goes into the creation of every single beer and will get to witness the process of how craft beer is made. A member of the brewery team acts as tour guide to ensure that you get as much information as possible and come away with a genuine knowledge of how to brew craft beer and inform you of how to begin brewing your own beers.
No brewery tour would be complete without tasters of Carrig brewery beers during the tour as well as a bottle of Carrig beer for every member of the party. We also cater for the possibility of creating your own personalised wedding beers which can be organised when making your booking.
"Follow us on Facebook and Twitter"