Shocker Soccer
Playing Shocker soccer is as exciting as it sounds! And no, it won't be the football that will be electrifying, You're no Haaland let's be real… Instead, You will have a small device strapped to your leg that sends a shock through your body strong enough only to soften those knees and have you diving like Ronaldo!
Rest assured you won't be fried but we will put your legs to the test.
Not recommended for people with back problems
Not recommended if you are pregnant
No heart problems or other serious medical conditions
Most people can participate as it is only a light shock
This activity requires a minimum number of 12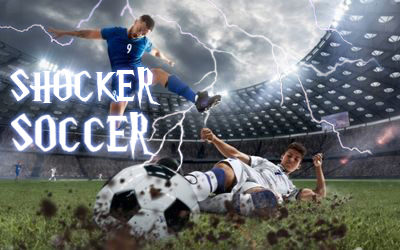 Goggle Soccer
We all know how hilarious you can be when you have the beer goggles on. This activity will have you prepared for when you put on the real beer goggles later in the night.
Our specially designed goggles will be given to every player. These will distort your view, making those very simple movements hard. We split your group into two teams going head to head in some hilarious challenges.
Not recommended for people with back problems
Not recommended if you are pregnant
No heart problems or other serious medical conditions
This activity requires a minimum number of 12