testing post
[soliloquy id="8654"]
Testing new slide
[rev_slider home-page-slider]
Testing Slider
test-enquire
Carrick Boat & Bike Hire

What made you decide to start Carrick Boat & Bike Hire?

The beautiful river Shannon is the gem of Carrick on Shannon town but we
realized that a lot of visitors had no opportunity to experience this
majestic river in a fun group activity. Carrick Boat & Bike Hire was set up
enable visiting groups to have fun together on the river Shannon.  We
introduced Chinese Dragon Boating and Stand Up Paddle boarding, two of the
fastest growing sports in the world, as  new and exciting group activities
to the area. Our rowing boats cater for the more traditional sports of
fishing and shooting whilst our bikes offer visitors who prefer to stay on
dry land a healthy and fun way to explore the Carrick on Shannon area.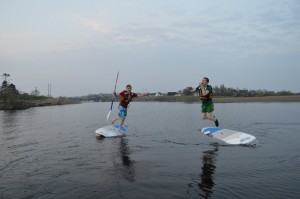 Describe a typical day in the life of Carrick Boat & Bike Hire?

Early am  –  delivery of bicycles and boats to customers

Late am-  getting dragon boat /SUP s and equipment ready

Early pm – SUP/Dragon Boating Sessions on the Shannon

Collection of bikes/rowing boats and Treasure hunt feedback

mid pm – Presentation of Dragon Boat Racing Prizes

late pm – Clean up & any repairs of boats, SUPs, bikes and equipment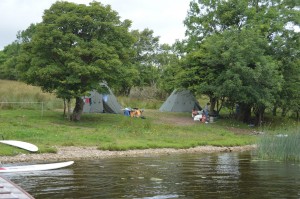 What is your favorite Activity?

My favourite activity is the Chinese Dragon Boating  – having loads of crack
as you paddle along the beautiful river Shannon fun with a group of friends
– exercise doesn't get any easier!
What has been your best achievement?

Bringing a group of international students on an overnight Island Adventure
Camp – they had a number of languages which we didn't speak. We found that
this was no barrier to everyone having a fantastic time as engagement in the
various water based activities enabled everyone to communicate very
effectively – enjoyment and fun being the common languages to all.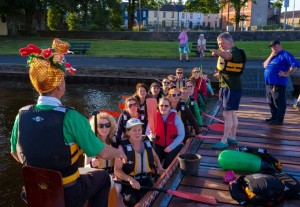 What is your hobbies/past-time?

 Swimming in the Atlantic Ocean – preferably at Keem Beach, Achill, singing
in a Gospel Choir, reading crime fiction and playing cards.
Coffee or Ice-Cream?

Easy – Maud's Pooh Bear Icecream
New Feature List of Activities
LAND ACTIVITIES
WATER ACTIVITIES
A Day in the Life of Pallas Karting
Who would've thought that Europe's Largest Karting Centre had such humble beginnings? Twenty years ago, no one would've thought that the farm would become a famous activity centre for stag groups, hen groups, families, friends, classmates, and colleagues.
We interviewed the man behind that transformation to find out about how they got into the karting business and more.
What made you decide to start Pallas Karting?
Pallas Karting is located in Tynagh, Co. Galway and 20 years ago, farming was the way of life. We had a 40 acre farm with cows and sheep. One trip to England changed all of that. That trip made me realise that there must be more to life than farming. So, when I returned, we all decided to forfeit the cows, sheep, and grass for karts and tarmac.
Some said it was mad (Most people really). Mad because farming was "the thing" back then and that was all they knew.
In Tynagh, the "if you build it they will come" mentality was used and that's what we did. After all, our location was perfect as we are only an hour from Galway, Limerick, Ennis, and Athlone.
Our dream did not start and end with building a karting centre. We wanted Pallas Karting to become Europe's Largest Karting Centre and we achieved that dream in 1998.
We get asked a lot, "Why aren't ye closer to closer?" Two things, we are where we are and if we were nearer Galway, there would be probably no track and where the track was, there would houses on it from the great Celtic Tiger.
Now, if you go anywhere and mention karting in Ireland, you will hear the name of Pallas Karting. So, from hosting cows and sheep, we now host All Ireland Karting Championships, drifting events, rally events, corporate and school days and so many stag and hen parties you could not count.
Describe a typical day in the life of Pallas Karting?
Manic – racing always. The day is full with signing in, briefing, togging out, maintenance, and trophy presentations. Most importantly, the day is full of lots of smiling faces and happy customers.
We are open 7 days a week, nearly 360 days a year, so there is always something going on, something to be done, and someone to look after. Things don't just happen for you. You have to get out there and do it or get it.
What has been your best achievement?
Lots of achievements really, finally becoming Europe's Largest Karting Centre in 1998 is a big achievement. The pride of holding the All Ireland Karting Finals at Pallas Karting every year since 1998 is another. We have come a long way from humble beginnings which we never forget.
Then, more recently, in 2013 the opening of Pallas Paintball, Galway's first and only Paintball site can be considered our most recent achievement.
What activities do you offer at Pallas Karting?
In addition to our famous (and) Europe's Largest Karting Circuit, we also have our 500m family track which is as large as most tracks in the country, if not bigger. Anyone can race at Pallas Karting from the age of 10 years old.
Since 2013, we have introduced Paintballing to our portfolio, Galway's only Paintball field, which obviously also makes us the best when it comes to paintballing in Galway. We pride ourselves on having a top class paintball as well as karting facility. No point in having one great and not the other. So, we strive to make all our events top class.
On top of all this, you can bring your Race Kart or Rally Car to Pallas Karting for testing from Monday to Friday nearly all year round. Drifting events are also held at Pallas Karting, so if it has an engine and four wheels, there is surely an event for you. Or, you can go paintballing.
What is your hobby or pastime?
The usual rugby, football, and racing on anything with four wheels. I enjoy wearing lyric based t-shirts, free sarcasm, and listening to good loud music (Dinosaur Jr. and Kasabian), mad moody music (The Cure and The Smiths), and husky crooners (Tom Waits and Nick Cave).
Oh… and we still do a little farming to keep us off the psychiatrists' couch.
Coffee or Ice-Cream?
It has to be Ice-Cream!!!
PALLAS KARTING – http://pallaskarting.com/