Pub on Wheels: Experience Legal Drinking and Driving at Its Best
Stags just want to have fun this summer. So, how about combing two ordinary summer pastimes and turn that into an unforgettable experience for your stag do?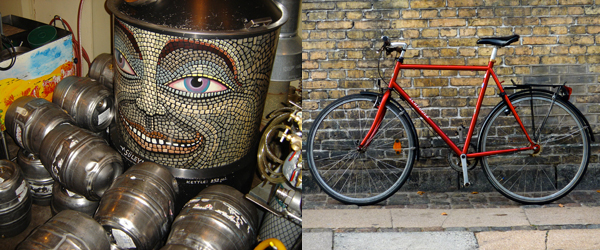 Drinking ice cold beer and riding a bicycle are two summer pastimes that are rather ordinary if you do them one at a time. Now, you do not really have to go about it that way. The beer bike is a brilliant invention! With a beer bike, you can actually do both at the same time. Needless to say, most stags who have tried it had an awesome time!
Where Did It All Start?
This ingenious bike was invented in the 1990s. The person who invented the beer bike must've thought… what could be a unique and fun way to see the city? Invented in Amsterdam, the beer bike was initially used as a means to take a tour of the historic and scenic city. Riding a beer bike is a unique, green, healthier, and calorie burning way to drink beer and see the sights.
Primarily made to handle a maximum of 17 persons, the first beer bike had individual bicycle seats that are attached to a bar-like structure. By pedaling, the giant bike moved in unison. Initially, a guide was needed to steer the giant bike to the right direction and to ensure that the persons pedaling will not crash.

More Recent Modifications
Now, there are beer bikes that do not really need the help of a guide. Such a bike was invented recently in Canada with the help of a local brewery and bicycle maker, Kichesippi Beer Co. and Tall Tree Cycles. This particular beer bike is built for and only good for one person.
Still, with the original concept in mind, this beer bike had a keg for a constant supply of beer on tap. Though it isn't really much fun partying alone, it is still a good means to go about town while drinking to your heart's content. Just make sure the keg is full and start pedaling away!
Riding a Beer Bike for Your Stag Do
At the moment, stags that choose to have their stag weekend in Amsterdam can choose this mode of transportation to see the city while drinking beer to their hearts' content. After all, who needs to go pub crawling when you can bring the pub with you? Simultaneously, the whole group can see the sights within the city and there are a lot of sights worth seeing.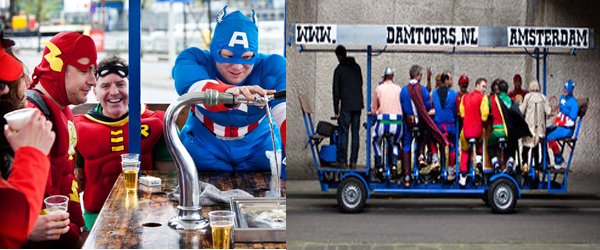 Businessmen who saw the potential of this mode of sightseeing made the beer bike available for tours in other European countries like Germany and Hungary. Mr. Klemt is one of them. He is the founder of BierBike and he says that he has plans for the whole world. He is not the only one. More recently, the beer bike increased its popularity and can now be experienced in several countries in Europe as well as the United States.
It is interesting to see that some stags even got more creative and dressed up as the Avengers or Lord of the Rings characters while riding a beer bike! Women were literally running after them and it was indeed a lot of fun for "Gandalf."
Get creative! You can get that experience of a lifetime for your stag do too!