footgolf
Footgolf has come to Dublin!
This fusion of Golf and Football is taking the world by storm and it's easy to see why. All the fun of golf without stress and all the skill of football where everyone has the chance to score a goal.
The premise is quite simple: place the soccer ball into a hole measuring 52 centimeters in diameter, with the foot in the least amount of kicks possible. Sound simple, doesn't it? Well think again. As you set off with a kick from the tee box, you will need to call upon all of your accuracy and strength to make it to the hole in the least amount of kicks possible, taking hills, bunkers, wind, ground and your nerves into consideration!
Footgolf was created in the Netherlands in 2009 when the The International FootGolf Association (IFGA) was founded in Geneva (Switzerland) in January of that year. With over twenty countries now hopping aboard the Footgolf train, this brand new sport shows no sign of slowing down.
Locations Available: 
Westport
Dublin
Bumper Soccer
Stagit.ie is bringing you one of the newest craziest sports to hit the world of soccer. You are strapped into large 1.6m diameter zorb balls and you go head to head against the other team. You can do backflips, rollies, dives, anything goes basically. When you fall or are thrown off balance you will bounce into the ground or bounce to your feet depending on how athletic you are. This is a must try for all groups.
Dodgeball

You've seen the film, but have you ever played dodgeball before? Now is your chance to try the real thing!
Dodgeball has a perfect balance of sports, aggressiveness, and silliness and is pretty much a straight-forward game. You throw balls to hit the opposite players, catch balls before they hit the ground, and dodge balls that are hurled at you. The team to eliminate all opposing players is the winner. Easy peasy, you say? Try the game and we'll see.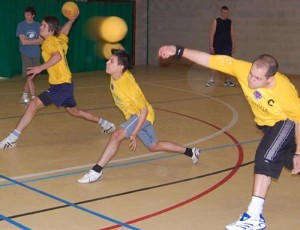 Players of all sizes, abilities, and experience levels are welcome. Just keep in mind the 5 D's of dodgeball: Dodge, Duck, Dip, Dive, and Dodge!
Lions Lads Have Two Reasons to Party
Two rugby stars, Johnny Sexton and Paul O'Connell, had some of their team mates with them for their special occasions. Both of them gave the other lads a good reason to party too as Johnny got married and Paul had his low-key stag do in Lahinch.
What can one do for a stag do in Lahinch? Aside from partying and drinking, stag groups can golf away all day as this seaside resort is home to the Lahinch Golf Club which is a world famous golf club. More recently, the town also turned into a popular resort for surfing.
They had to give each other a pass as both occasions took place in one weekend. That also meant that the rest of the team had to go to either celebration.
Paul O'Connell's Stag Party
Fans probably know that Paul and his bride-to-be, Emily O'Leary, have been together since they were twenty. In April 2010, they had a baby boy, Paddy O'Connell. In June 2012, the couple got engaged. Now, a year after, they plan to get married at the south of France later this month.
His fans would also know that Paul has been a supporter of Everton, Liverpool's rival. For his stag do, he dressed up in a Liverpool 80s kit with a red jersey, shades, and a mullet. One of his groomsmen, Darragh O'Sullivan wrote "Liverpool's latest signing" beside his pic. Those who know him probably had a laugh. Those who don't know him will not really get the joke.
Johnny Sexton's Wedding
Johnny Sexton married Laura Priestly last Friday afternoon. Laura is Johnny's childhood sweetheart. They tied the knot at the Holy Trinity Church in Adare, County Limerick. After the celebration, they flew for that one-week honeymoon in Las Vegas. With a hectic schedule, the couple probably did not have enough time to have a stag or hen party.
The whole affair was quite romantic after Johnny revealed that two generations of his family got married in that place and that Adare was always close to his heart. After the ceremony, the wedding party was held at the Minstrel's Gallery.
Paul and Johnny are team mates for both Ireland and Lions team. However, they already knew that they had to pass up each other's special occasion as their schedule does not really give either of them a lot of free time. Both are busy as the Lions tour will be ending. Then, the domestic rugby season will be starting.
Stag Party In Sligo
Sligo Stag Party, Sligo Stag weekend.
Take a look at our range of stag party Sligo packages and our Sligo stag weekend Packages.
The capital of County Sligo is an attractive town with good bars and restaurants, theatres, art galleries and delicatessens. More and more stags are making their way to Sligo because of all the lively craic that can be had in this town that's full of warm and friendly people.
The pubs and clubs are stag friendly as proprietors know that they are a good for Sligo's economy. With plenty of places to visit and activity's to partake you're guaranteed a good stag weekend. We've had numerous stag parties who went back to Sligo after being so pleased with their first visit.
Below is a list of accommodation and activities nearby that will make your stag party memorable.……
*Please refer to your unique email quote as to exact details for your weekend.